Učka Nature Park
Mount Učka is the ideal place for relaxation and recreational activities such as hiking. The view from its highest peak is definitely something not to be missed.
Excursions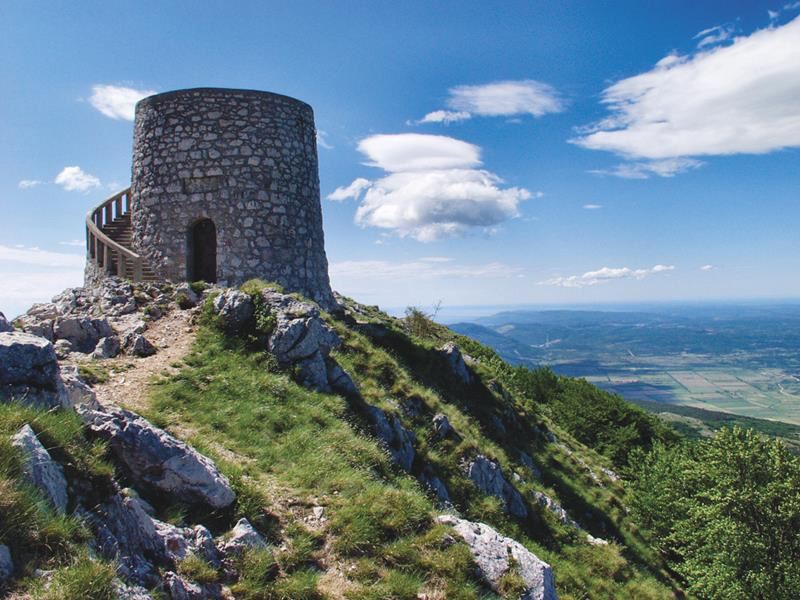 Mount Učka rises along the coast of the northern Adriatic. The closeness of the sea has resulted in a specific climate and lush forest vegetation, with many rare and protected plant and animal species. The peak of Vojak features a stone tower, which has become a recognisable landmark. From the top of the tower, one can admire a magnificent view of Rijeka, the Kvarner islands, Istria, Platak and beyond. This 360° panorama is truly breathtaking!
Mount Učka offers a variety of sports and recreational activities, such as hiking, free climbing, mountain biking and hang gliding, and is a venue for various sporting competitions and races. Here, you'll find a variety of well-tended hiking, cycling, educational and walking trails. The programme for visitors includes different workshops and programmes for children, as well as guided tours.

The Slap trail leads to a waterfall that springs up from several places inside the canyon. The trail will take you through a resting place, sweet chestnut forest, oak forest, and ancient terraced gardens where in the past people used to cultivate land.

The Vela Draga trail leads through a magnificent canyon that is protected as a geomorphological monument of extraordinary importance. Along the trail, you'll find interpretation boards that explain some of the local phenomena in four languages.
Every day from 9 am to 5 pm