Veprinac
A great view of the whole of Kvarner Bay can be admired from the quaint hilltop town of Veprinac
Excursions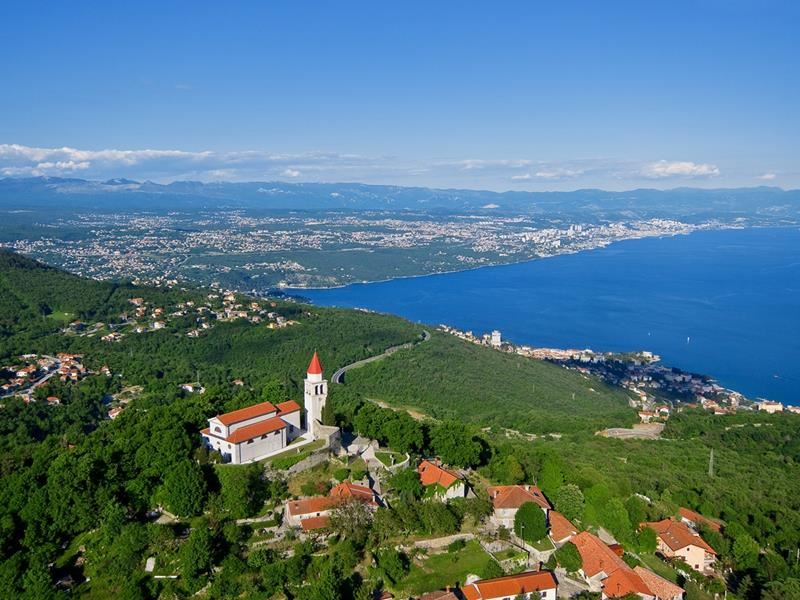 If you'd like to admire a spectacular view of the whole of Kvarner Bay, Veprinac is the place to visit. Those of a more adventurous spirit can reach Veprinac via a hiking trail that leads directly from Opatija.
Veprinac is a picturesque hilltop town with a rich heritage and important cultural and historical monuments. The most remarkable of these is the Church of St. Mark with its impressive bell tower. In front of the town gate, there's the ancient small Church of St. Anne with 15th-century drawings inside. Veprinac also houses the interesting Ethno Collection with approximately two hundred well-preserved items that demonstrate the way people used to live here in the past.
Just like Volosko, Veprinac was also an important centre long before Opatija became a notable tourist resort. Probably built on the foundations of a pre-historic settlement, the origin of the name Veprinac is usually thought to be connected to the Croatian word for butcher's broom, a plant which grows abundantly in the area. The historic heritage of the town includes the Veprinac Law from 1507, a very important document that regulated the customs and legal issues of the time.
The old part of the town can be reached by passing the town gate with three arches, which is located in the former municipal building. On the right, in front of the town gate, is the loggia, and on the left is St. Anne's Chapel with an inscription from 1442. During recent restoration work, the remnants of some interesting frescoes were found on the walls inside the chapel, but these still need to be researched in more detail. The building right by the town gate hosts an ethnological collection presenting items, tools and documents that illustrate how people in this area used to live in the past.
The ascent up stone steps to the entrance to the church yard of St. Mark's parish church; the wonderful views of Kvarner Bay and Opatija on the sea side, and Mount Učka in the hinterland; the church yard where time seems to be standing still – this is Veprinac, the ancient town above Opatija Riviera where at every turn one can feel the nostalgic spirit of the times gone by. Just like the local poet Josip Stanić wrote in his verses – Veprinac seems to almost touch the heaven
The Ethno collection VEPRINAC
With the objects that were collected and exhibited, an attempt was made to show the former way of life and practice of the people in Veprinac. The people were occupied with agriculture and animal husbandry. Also sowing rye, wheat, barley and oats, cultivating figs, ulika/olive, apples, walnuts, chestnuts and wine grape, as well as raising sheep, chickens, goats and later on cattle and horses.
Opatija - Veprinac

By car - 7 km * 20 min

By bus - lines 34 and 35 * 40 min

By foot - 5 km * 90 min