Volosko
Discover charming narrow streets and meet local fishermen
Excursions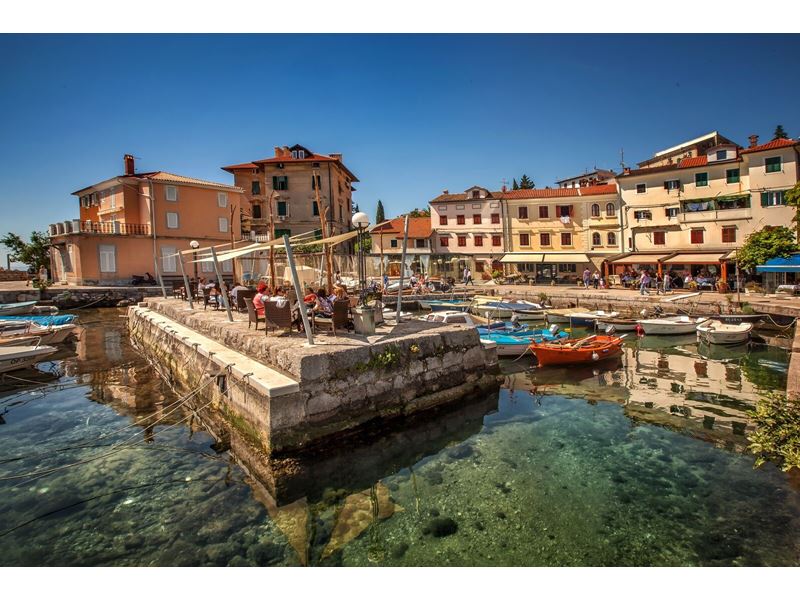 Volosko, a fishing village where life has long been oriented towards the sea, is today a very popular gourmet destination with excellent restaurants. The Mediterranean spirit is woven into the architecture of Volosko, a place whose stone steps and narrow streets hide several art galleries and ateliers. The heart of Volosko is its small fishing harbour, known as mandrać, which is today a stage for performances of klapa vocal groups and jazz music, as well as other artistic events. In addition to historical and cultural sights of interest, including the house where the world-famous scientist Andrija Mohorovičić was born, another reason for visiting Volosko is its beaches and the ten-kilometre-long Lungomare seaside promenade, which starts in Volosko and winds its way along the coast to Opatija and further on to Lovran.
Before Opatija became a holiday resort, Volosko was the seat of the district, an important trade port and the area's administrative centre. Today Volosko has lost that importance, but not its magical appeal as a picturesque fishing village, an inexhaustible source of inspiration to artists, a haven to those searching for peace in the narrow lanes of the old town, or for a cup of coffee on the waterfront, in the unique atmosphere of the harbour. There is something very special about the view of the sea from Volosko's waterfront: the whole Adriatic seems to open up towards the south from here…
When walking through the lanes in the historic part of the town, you will come across the monument commemorating Volosko as the birthplace of Andrija Mohorovičić, the world-famous scientist who first identified the discontinuity that separates the Earth's crust from the mantle. This layer is called the Mohorovičić Discontinuity, or Moho for short. He was born in the house at the very beginning of the Lungomare coastal promenade.
Today Volosko is also synonymous with fine gastronomy – from typical taverns offering fish and other traditional dishes of the local area, to superb gourmet restaurants that are listed in the most prestigious international restaurant guides – Volosko offers all of that, and much more.
Enjoy excellent cuisine, discover the fishermen's secrets, and relax on the terrace of a cosy café by the sea. Experience the charm of Volosko!